Nature's Herb Garden with Gemstones
In the Garden of many Herbs,
the flying bugs of nature dwell.
And what a joy it is to see,
the jewels that fly so happily.

For as the Hummingbird and Dragonfly
fly through the morning dew, and
the sunlight gives a glint of the Gem-like glow
of their feathery wings, in every hue.
So, what an honor it is for me,
to be here at this time so rare,
how grateful I am here.
Love to all, enjoy, enjoy!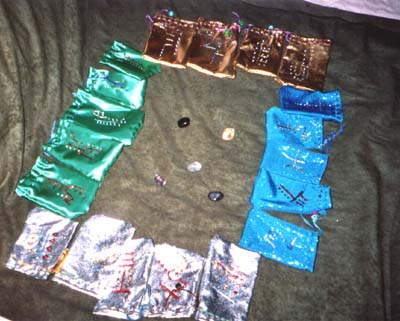 The many pouches in many colors,
with emblems from many star systems.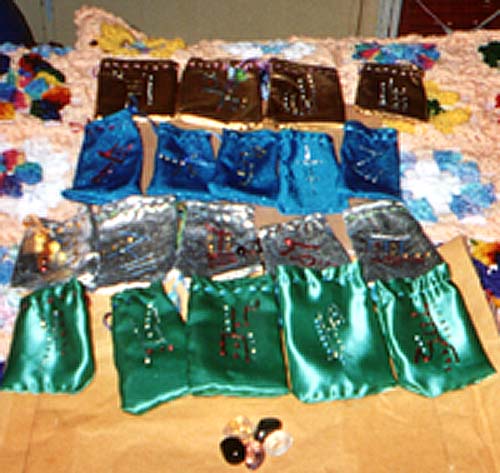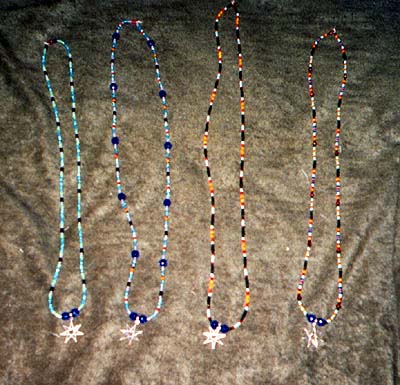 And then the Pleiadian Silver Star of Seven points
gives to wonder a part of us is here and also far out in space.
These beads of many hues that sparkle as you wear
them around your neck give you the feeling
that we are not alone, after all.
For we can dream of times of many eons.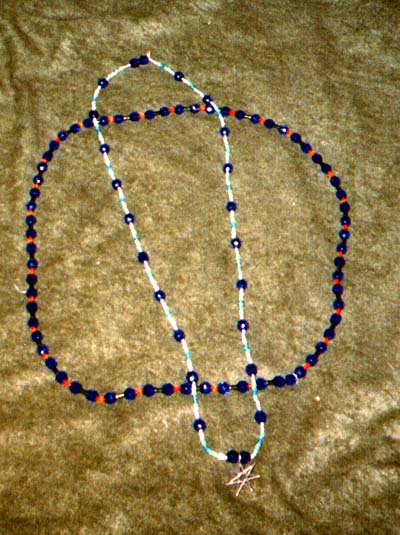 And then the Herbs of many scents are... oh! So healing in your bath. And then the tea for many ailments helps you stay well for the elements.
The little dream pillow... oh! So sweet...
helps you to get a good night's sleep.
And the sweet smell of English Lavender makes your linens
safe from moths to eat them.
The price of the pouches with the 5 Gemstones is $10.00 postpaid.
The sterling silver star necklaces with the beads are $25 postpaid.
The Herb bags run from $3.00 up, depending on what type they are.
These will be made upon request, and in whatever color you wish to have.
THE CRYSTAL BLUE DOLPHIN
Messages
3 CASES OF REAL-LIFE GHOST WHISPERERS
Crossing over earthbound souls
PROFILE OF A STARSEED
by 2nd Lt. Julieanux and Comm. Sanni Ceto
THE PHOENIX
Web Page
JAYAMAH
Web Page
COMMANDER SANNI CETO'S
Web Page
SARA'S PROFILE
Sara/Waneta L. Hockenbery

For more information, please e-mail Sara Hockenbery
bluecrystaldolph@aol.com
---
Web page design by Web Dreams © 2006