Crystal Blue Dolphin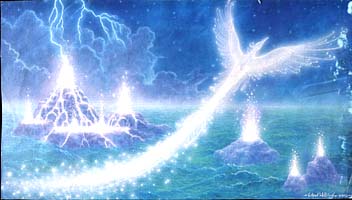 Greetings to you, oh children of Earth
I'm the giver of the breath of life to the fire mountains and to the wildfire upon your earth.
From a tiny worm of dirt, an essence of your Mother Earth I arose, in a splendor to become a living bird
of pure searing fires. To the thunderbird I'm related, to the king of birds, the eagle, I'm kin.
Stand under my wings of heat, and absorb my radiant energies, and let my body of light
cleanse your planet of all negativity, my people of the light.
Like a butterfly, I have emerged, from a tiny egg of pure energy.
You, oh humankind, as a tiny butterfly you learn to grow.
Emerge into a worm of insignificance, until you become as I, a transformed soul of radiant, eternal light.
You're all blessed and kissed by the giver of my life, who is Grandmother Sun.
Feel yourselves transforming from lost souls into beings of new light upon your troubled Planet Earth.
Become yourselves as a Phoenix inside of your hearts,
and never let your flames that give you knowledge ever die out.
My children, don't become as ashes scattered upon a barren and dead land,
for your lives are a blessing to your people and to your planet.
As tiny Phoenixes, spread your wings and soar as cosmic eagles into a brand new morning,
a fresh new day, for all beings, in harmony with your Creator.
Namasté from Phoenix
THE CRYSTAL BLUE DOLPHIN
Messages
3 CASES OF REAL-LIFE GHOST WHISPERERS
Crossing over earthbound souls
PROFILE OF A STARSEED
by 2nd Lt. Julieanux and Comm. Sanni Ceto
NATURE'S HERB GARDEN
With Gemstones
JAYAMAH
Web Page
COMMANDER SANNI CETO'S
Web Page
SARA'S PROFILE
Sara/Waneta L. Hockenbery
For more information, please e-mail Sara Hockenbery
bluecrystaldolph@aol.com
---
Web page design by Web Dreams © 2006